(Games & Entertainment::Card) Texas Hold-em 2.0 by AGCrump Software
Play a Texas Hold-em style poker card game that let's you play and bet against computer opponents. This traditional card game is designed to be challenging for both beginning and advanced players, rather you're learning the game for the first time.
OS Support: Win95 Win98 WinME WinXP Windows Vista
System Requirements: 4 MB RAM, Mouse
Download Link: Download Texas Hold-em 2.0 (1.17 MB)
Downloads are not scanned or verified by DownloadWindowsPrograms.com. Download at your own risk. Be sure to have up-to-date virus protection.
Buy Texas Hold-em ($10.00)
Program Webpage: Texas Hold-em 2.0 Website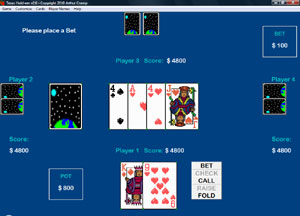 Released 2010-06-01 [Shareware]