(Audio & Multimedia::Music Composers) Cool Audio Editor 3.26 by FlyWing Inc
Cool Audio Editor is a powerful audio editing software that enables you to create, edit, filter, apply effects, and convert audio files. You can combine, copy, mix, insert, and do audio operations easily. You also can apply filters to a selected part of an audio file; reduce vocals; mix stereo channels; play an audio file or any part of it; and convert an audio file from one format to another; merge audio files. Cool Audio Editor supports many audio formats, including WAV, MP2, MP3, VOX, WMA, raw audio, MPC, AVI, Audio CD, Ogg Vorbis, G.721, G.723, G.726, AIFF, and AU.
OS Support: Win95 Win98 WinME WinXP
System Requirements: 128M RAM
Download Link: Download Cool Audio Editor 3.26 (10.18 MB)
Downloads are not scanned or verified by DownloadWindowsPrograms.com. Download at your own risk. Be sure to have up-to-date virus protection.
Buy Cool Audio Editor ($34.95)
Program Webpage: Cool Audio Editor 3.26 Website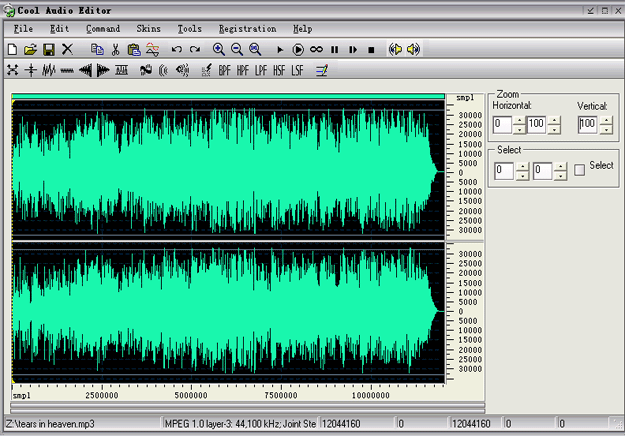 Released 2009-02-10 [Shareware]