(Network & Internet::Download Managers) Free Download Manager 6.13.4 by FreeDownloadManager.ORG
Es un acelerador de descargas moderno, potente y un organizador para Windows y Mac. Free Download Manager le permite ajustar el uso de tráfico, organizar descargas, controlar las prioridades de los archivos Torrents, descargar archivos de gran tamaño eficientemente y reanudar descargas canceladas. ¡FDM puede impulsar todas sus descargas hasta 10 veces, procesar archivos de medios de varios formatos populares, arrastrar y soltar los archivos directamente desde un navegador web, así como descargar simultáneamente múltiples archivos. Nuestro gestor de descarga de Internet es compatible con los navegadores más populares: Google Chrome, Mozilla Firefox, Microsoft Edge, Internet Explorer y Safari.
OS Support: WinXP Windows 8
System Requirements: 150 MB available free disk space, 1 GHz or faster, 1 GB RAM
Download Link: Download Free Download Manager 6.13.4 (40.81 MB)
Downloads are not scanned or verified by DownloadWindowsPrograms.com. Download at your own risk. Be sure to have up-to-date virus protection.
Program Webpage: Free Download Manager 6.13.4 Website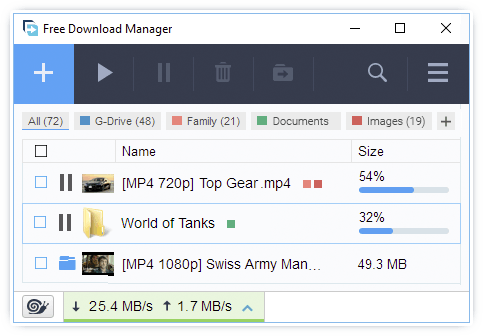 Released 2021-02-09 [Freeware]