(Network & Internet::Network Monitoring) EZ Pinger 1.01.061220 by Maximum Output Software
EZ Pinger is a network monitoring and management tool for testing Internet and local hosts via Ping, TCP connections, Windows services, Windows shares, and web servers via HTTP. When a host goes offline or comes online alerts can be sent via email, on-screen popup, HTTP, or EZ Pinger can launch external programs in response to online/offline events. It also includes other tools for assisting with networking tasks, such as a very high speed Trace Route, and very detailed reports of computer network-related status information. It also offers an extensible open plugin architecture to make it easy for software developers to write their own host testing modules.
OS Support: Win98 WinXP Windows Vista
Download Link: Download EZ Pinger 1.01.061220 (1.49 MB)
Downloads are not scanned or verified by DownloadWindowsPrograms.com. Download at your own risk. Be sure to have up-to-date virus protection.
Buy EZ Pinger ($79.00)
Program Webpage: EZ Pinger 1.01.061220 Website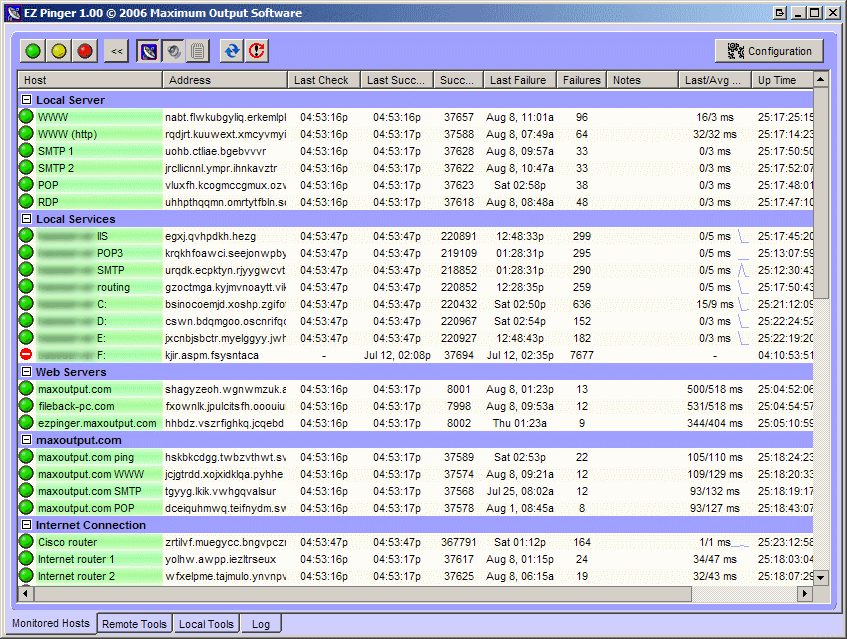 Released 2006-12-20 [Shareware]