(Network & Internet::Browser Tools) FirefoxDownloadsView 1.40 by NirSoft Freeware
This utility displays the list of the latest files that you downloaded with Firefox. For every download record, the following information is displayed: Download URL, Download Filename (with full path), Referrer, MIME Type, File Size, Start/End Time, Download Duration, and Average Download Speed. You can easily select one or more downloads, and then save the list into xml/html/text/csv file or copy the downloads information to the clipboard and paste it into Excel or other spreadsheet application.
OS Support: WinXP
Download Link: Download FirefoxDownloadsView 1.40 (0.20 MB)
Downloads are not scanned or verified by DownloadWindowsPrograms.com. Download at your own risk. Be sure to have up-to-date virus protection.
Program Webpage: FirefoxDownloadsView 1.40 Website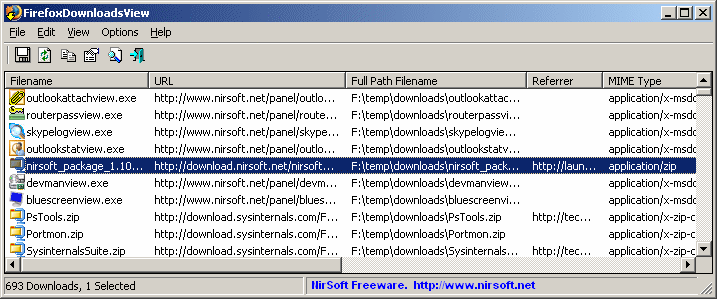 Released 2019-03-30 [Freeware]