(Network & Internet::Browser Tools) SeqDownload 1.26 by NirSoft Freeware
Many Web sites provides "live" images that are automatically updated every few seconds or minutes. When you browse to a Web page with live image, you always get the latest image from the last few minutes. But what about viewing some historical images from a few days ago, or watching the animation of the images from the last few hours ?? Some Web sites provides limited options to do that, but most Web sites only allows you to watch the latest image. This utility allows you to automatically download an image file in every few seconds or minutes (according to your selection), and save it to your local drive. After collecting a fair amount of downloaded images in your local drive, you can easily create beautiful animation from the downloaded images or simply watch the historical images on your local download folder. You can also use this utility to frequently download non-image files, and store them on your local drive, so we'll always have in your computer the latest file from the remote Web site. This utility is especially useful for live cams Web sites, weather radar images, and satellite images.
OS Support: Win98 WinXP
Download Link: Download SeqDownload 1.26 (0.04 MB)
Downloads are not scanned or verified by DownloadWindowsPrograms.com. Download at your own risk. Be sure to have up-to-date virus protection.
Program Webpage: SeqDownload 1.26 Website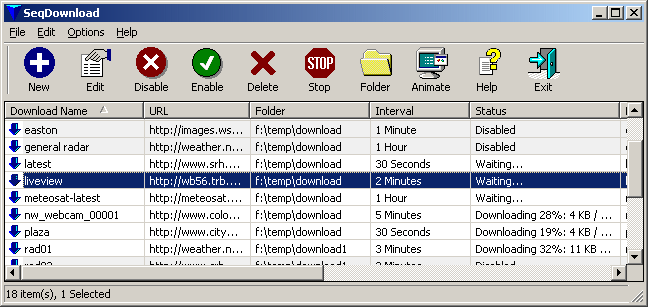 Released 2010-07-17 [Freeware]