(Audio & Multimedia::Music Composers) AlgoRhythmia 4.1 by Zeta Centauri
AlgoRhythmia is a programmable drum machine and random MIDI drumbeat generator. It generates patterns up to 4 measures long in any of six time signatures and at virtually any BPM. It allows the user to mutate or regenerate any or all of the drum sounds in a pattern and can alter and evolve drum patterns over time as they play. It includes the ability to play .wav samples and has a library of royalty-free .wav drum samples and allows the user to edit the individual notes in a drum pattern. Patterns can be saved to disk or exported to a MIDI file.
OS Support: Windows Vista Windows 8
System Requirements: DirectX 9 or later
Download Link: Download AlgoRhythmia 4.1 (14.71 MB)
Downloads are not scanned or verified by DownloadWindowsPrograms.com. Download at your own risk. Be sure to have up-to-date virus protection.
Program Webpage: AlgoRhythmia 4.1 Website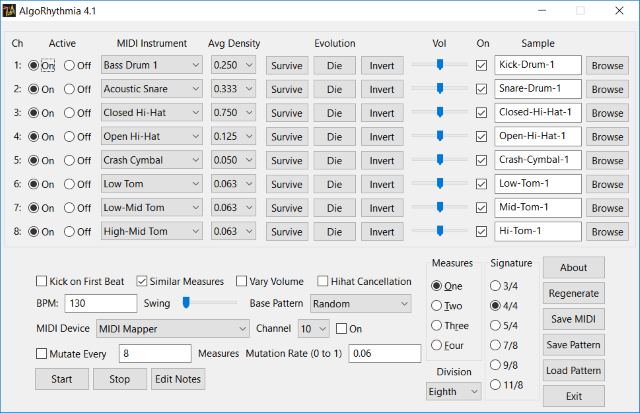 Released 2016-10-09 [Freeware]